Through the magic of Twitter I have recently been made aware of the organization
2 Dogs, 2000 Miles
started by Luke Robinson when he lost his dog Malcom to bone cancer at the age of six. Like so many owners whose animals are diagnosed with cancer he was frustrated that we are still unable to cure this devastating disease. So Luke decided to hit the road with his dogs Murphy and Hudson and walk from Austin, Texas to Boston, Massachusetts to raise awareness about canine cancer.
As I was reading Luke's story I couldn't help but think of
Westin
and how hard she fought against her multiple cancers. I immediately volunteered to help and was honored when they asked me to speak at their Canine Cancer Caucus here in DC on September 18th. Luke's goal is to bring awareness to the prevalence of canine cancer and stimulate interest in the funding of oncology studies. Friendship's oncologist
Dr. Chand Khanna
will also be speaking about his work at the NIH and how finding a cure for canine cancer can lead us to better understanding of cancer in humans.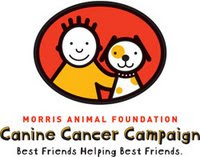 One in four dogs over the age of two will be diagnosed with some type of cancer. Though most cancers in companion animals are, unfortunately, not yet curable, many are now treatable thanks to devoted doctors like Chand Khanna and organizations like the
Morris Animal Foundation
. We are making great advances in managing cancer in our beloved pets and one day we will find a cure.
I am thrilled to be a part of this inspirational cause and hope that you and your dog can join us as we march on the National Mall Friday, September 18th. Friendship will be hosting an event Thursday the 17th from 5:30 to 7:30 pm to welcome Luke, Murphy and Hudson. We invite you to come by, enjoy some refreshments and say hello. Please visit
www.2dogs2000miles.org
or email
dc@2dogs2000miles.org
for more information.