Tuesday, November 23, 2010
New episode now available, please enjoy!
This can also be seen on YouTube by
clicking here
Thursday, November 18, 2010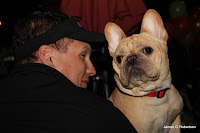 Photos courtesy of James Robertson
This past weekend Friendship and Happy Paws hosted our first Yappy Hour at Pete's Apizza.
I was thrilled when more than seventy people turned up with their dogs to enjoy a slice of pizza and the wonderful fall weather.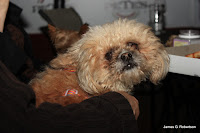 For a small donation to Friendship's Fund for Humane Education attendees were given a Friendship tote bag filled with goodies and a chance to win a Friendship gift card or a play day with sleepover at Happy Paws. We collected nearly $500 in donations to the Fund, which serves to support WARL in educating area children about proper treatment and care of animals.
I had a great time catching up with Friendship clients outside of the hospital and I got to see many of my Polite Puppies participants.
It was a wonderful afternoon and there will definitely be more Yappy Hours to come!