Each week I will be posting stories about dogs and cats who are up for adoption in an effort to create awareness about all of the amazing animals that are living in shelters just waiting to meet you. If you are interested in one of our featured pets or any of the wonderful dogs and cats in need of a new home please contact
Washington Humane Society (WHS)
or
Washington Animal Rescue League (WARL)
directly.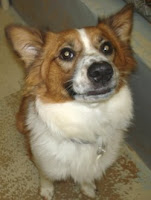 Jake is a 1-year-old
Australian Shepherd
mix whose previous owner didn't have time to care for a high-maintenance breed like an Aussie. Jake is a friendly, intelligent dog who needs a home with someone who will provide him with plenty of daily exercise and a "job", such as obedience training or dog sports (like Agility, for example). He gets along with other dogs and may even be able to share his home with a confident cat. Jake is an excellent match for an active person or family who would like an intelligent dog eager to learn and work. He'll provide you with plenty of love and snuggles in return. Jake is a medium-sized dog, full grown at about 35 pounds.
WHS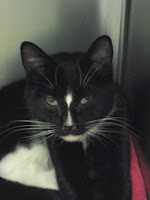 Pete (7050553) is an incredibly handsome 1 year old boy who was found wandering in the 7300 block of Georgia Ave. NW. A local woman found him on her way to work and didn't want him to freeze! Pete is a very friendly, loving little guy who loves to be petted and held once he gets to know you. He's at the age where playtime is still very important but so is snuggletime!
WHS