Each week I will be posting stories about dogs and cats who are up for adoption in an effort to create awareness about all of the amazing animals that are living in shelters just waiting to meet you. If you are interested in one of our featured pets or any of the wonderful dogs and cats in need of a new home please contact
Washington Humane Society (WHS)
or
Washington Animal Rescue League (WARL)
directly.
Chris is a curious, peppy 4 year old Tiger who was hanging outside of an apartment building in NE DC. One of the residents was afraid he would freeze so she gave us a call. Chris is a friendly little guy who likes to explore new environments with the attention of a detective. Tolerant and gentle, this fabulous feline may be on the older side, but he's still got lots of adolescent cat in him and still enjoys playtime. Come down and meet this sweet little guy today!
WHS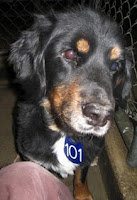 Muneco is a ridiculously adorable 5 year old Collie mix who was found meandering through Hyattsville, MD, hoping to find his new forever home. Muneco is a super sweet, loving, social boy who bonds strongly with people. Very tolerant and appeasing, he's very sensitive and looks to people for support. A little stressed with new situations and experiences, he deserves a home where he's given plenty of time to feel comfortable, and where he's provided with confidence building in addition to tons of love and affection. Muneco is full grown at about 50lbs.
WHS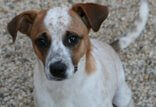 Good Times, a 1-yr-old Rat Terrier mix came to WARL from a shelter in Georgia. She weighs 24 pounds.
WARL