Each week I will be posting stories about dogs and cats who are up for adoption in an effort to create awareness about all of the amazing animals that are living in shelters just waiting to meet you. If you are interested in one of our featured pets or any of the wonderful dogs and cats in need of a new home please contact
Washington Humane Society (WHS)
or
Washington Animal Rescue League (WARL)
directly.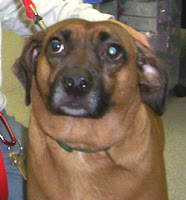 Brewster is a 2-year-old Beagle mix whose previous owner adopted him from another shelter only a few months ago, but said a new job meant she no longer had enough time for him. Brewster is shy at first, but bonds quickly and is eager to snuggle up next to you on the sofa and roll over for a belly rub. He's also fun, playful and loves toys! Brewster should weigh around 20 pounds, however he's currently on the chubby side and would benefit from a diet in his new home. Because he gets nervous easily, he's not recommended for a home with young children. He does seem to get along well with other dogs.
WHS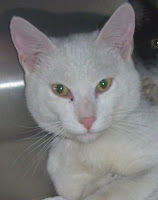 Corgan is a beautiful 2-year-old solid white cat whose previous owner passed away. Corgan is a mellow kitty who spends his time sitting quietly while he watches the other cats race around the room. Corgan is very affectionate and enjoys snuggling up next to you and getting scrached under his chin.
WHS
Brock, a 1-yr-old German shepherd mix, came to the League from another DC shelter. He and 9 other dogs were discovered in a hoarding situation after the person who was keeping them got sick.
WARL