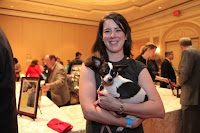 Last week the Washington Humane Society held their 9th annual A Sugar and Champagne Affair to honor their Human Law Enforcement officers. I had a lovely time sipping champagne and snacking on tasty desserts from DC area sommeliers and pastry chefs, while Lilly was treated to gourmet dog biscuits.
(photo courtesy of Samantha Strauss for Metromix)

Humane Law Enforcement
provides a critical service to our community by investigating complaints of animal cruelty twenty-four hours a day, seven days a week. They have to endure some of the worst examples of human nature in order to rescue abused and neglected animals in need. Friendship's close relationship with WHS ensures that we are always here to offer medical treatment when necessary.
All funds raised from the event go to the
Human Education Fund
which works with students in areas of DC where animal abuse is common to teach them compassion and kindness towards animals. If we can establish a connection between these children and animals at a young age then perhaps we can stop the cycle of abuse and potentially save many dogs and cats from unnecessary cruelty.
Friendship is proud to support the hard work of the HLE officers and their dedication to the animals of the District.