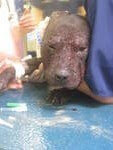 http://www.wusa9.com/video/default.aspx?aid=78174&storyid=89534
http://www.wjla.com/news/stories/0809/648310_video.html
http://www.nbcwashington.com/news/local-beat/Attacked-Dog-Recovering-After-Being-Thrown-Out-With-the-Trash-52912662.html
http://www.myfoxdc.com/dpp/news/local/081009_dog_found_in_dumpster_survives
Humane Law Enforcement Officer Eve Russell brought a young pit bull into Friendship after responding to a call in Southeast DC on Friday afternoon. A resident of an apartment building was throwing her trash into a dumpster when she noticed a dog's head sticking out of a bag. The Washington Humane Society was immediately notified and Officer Russell arrived to investigate.
She found an approximately two year old dog covered in dirt and blood that had been duct taped in a black trash bag and thrown in the dumpster. Officer Russell was able to pull the dog out and quickly freed her from the garbage bag. She realized what critical condition the dog was in and rushed her to Friendship for emergency care. She was named Trooper by Officer Russell during admission to the hospital.
Upon arrival at Friendship we found her to be in shock, severely dehydrated and in a lot of pain. We started intravenous fluids and quickly administered pain medication. She suffered from multiple puncture wounds around her neck, head, and muzzle. Her most severe injury came from a large, very deep gash over her right eye that extended to the bone.
Once she was stable we sedated her to begin to fully assess her wounds and start treatment. The laceration above her eye was closed with multiple sutures as was a tear in her lip. The remainder of the abrasions were clipped and cleaned. She was started on antibiotics and anti-inflammatories.
The next day Trooper was comfortable and eating very well. She continued to do well until Sunday evening when she spiked a fever and became lethargic. We added in another antibiotic to assess infection and are monitoring her very closely. She has such a severe amount of swelling around her right eye and muzzle her skin is starting to slough off.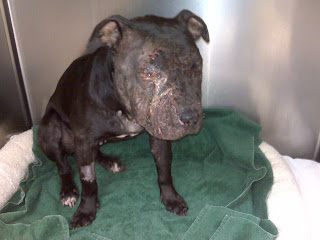 All we can do now for Trooper is continue to monitor, treating with aggressive antibiotics and pain management. Despite everything she has been through she remains comfortable and continues to eat. You can view the links posted above for more coverage on Trooper.

The Washington Humane Society is offering a $1500 reward for anyone who has information leading to an arrest of the individuals who did this to Trooper.