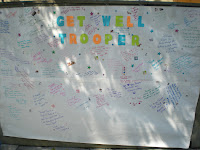 Trooper's fundraiser was a huge success on Sunday. Apart from raising over $4000 for her medical expenses I think the community really appreciated having a place to go so they could show their support. Thank you to everyone who stopped by, we hope you had a great time!
Three Trooper fans show their support with face painting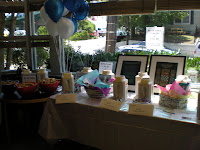 The table with all of our wonderful raffel items
Trooper's wounds continue the slow healing process. She has daily sedated bandage changes where the wounds are cleaned and a fresh bandage is placed. Last week we removed a large amount of dead tissue that was causing the discharge from her right eye seen in her first TV interviews. It was a little nerve racking to remove so much tissue from her face where there isn't a lot of extra skin to work with, but it had to be done.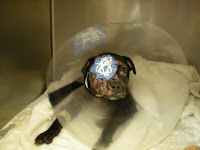 She has responded very well, the wounds are clean and appear to be free of infection. Once we are certain the wounds are ready we will close the skin and hope for the best. At this point she still has her right eye but both the upper and lower eyelids were involved and a large amount of tissue was removed. If the skin around her eye contracts too much when it heals she would be unable to blink which would necessitate removing the eye. Again we are taking everything one day at a time and so far we are pleased with her progress.