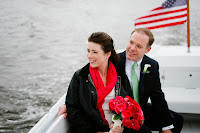 My husband and I celebrated our one year anniversary this past weekend. As we were looking back through our beautiful pictures I thought it would be fun to share with other pet lovers how we incorporated our dogs into the big day.
Now having four dogs like we do it was a bit of a challenge to work them into the plan without things getting ridiculous.
We had a small bridal party consisting of my matron of honor Hilary and his best man Ryan, who happen to be married to each other.
I thought it would be delightful to have all four dogs walk down the aisle in place of a traditional wedding party.
Unfortunately, this brilliant idea was quickly nixed by both my husband and the Church as a bit too much.
So I consented to have one dog, our Labradoodle Frank, meet us after the ceremony for pictures.
Frank was bestowed this honor as Hugh and I got Frank together when he was a puppy in fall of 2010.
It really would have been a bit dicey with all four dogs jumping around my pristine white dress.
It was well worth the effort, the pictures with Frank are by far my favorite from the wedding.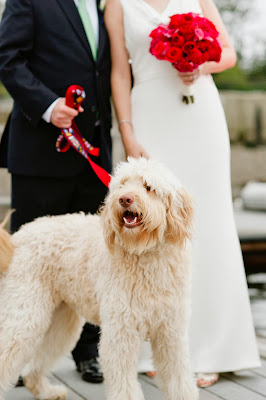 In order to include all of the dogs I did find little ways to incorporate them into the wedding festivities.
I found someone on Etsy to make
custom toppers
for our cake, this was another one of my favorite parts of the wedding.
I also had a
map
drawn up for the guest bags and asked that the artist include the dogs in the illustration.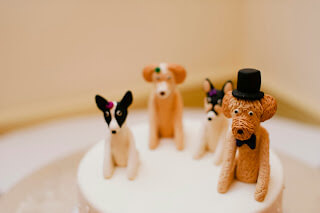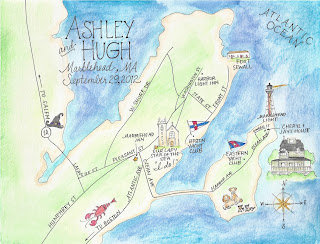 If you do have your dog around for the wedding festivities make sure there is someone who is responsible for him, things can get hectic and you don't want to be worried about his whereabouts.
Also keep in mind, not all dogs love a party.
If your dog is timid or fearful perhaps it is best to have him stay safely at home.
Even if your pets can't be physically present for the actual day there are plenty of ways to include them, after all they are a part of the family!
Thank you to our wonderful photographer Ashley O'Dell -
http://www.aodell.com/