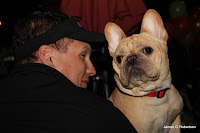 Photos courtesy of James Robertson
This past weekend Friendship and Happy Paws hosted our first Yappy Hour at Pete's Apizza.
I was thrilled when more than seventy people turned up with their dogs to enjoy a slice of pizza and the wonderful fall weather.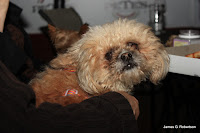 For a small donation to Friendship's Fund for Humane Education attendees were given a Friendship tote bag filled with goodies and a chance to win a Friendship gift card or a play day with sleepover at Happy Paws. We collected nearly $500 in donations to the Fund, which serves to support WARL in educating area children about proper treatment and care of animals.
I had a great time catching up with Friendship clients outside of the hospital and I got to see many of my Polite Puppies participants.
It was a wonderful afternoon and there will definitely be more Yappy Hours to come!