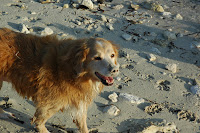 My dog Westin was diagnosed last week with a very aggressive type of cancer in her liver called hemangiosarcoma. This is a cancer of the blood vessels, it has a tendency to spread quickly and can be very difficult to treat. As with her two previous diagnoses of lymphoma and melanoma, the
Oncology Department at Friendship
has been amazing.
Dr. Cha
nd Khanna
--who may just be the most amazing person I have ever met--leads this team of dedicated doctors and veterinary technicians. In addition to being double board-certified in internal medicine and oncology, Dr. Khanna runs multiple labs at the National Institutes of Health and founded
Animal Clinical Investigation
. Through these organizations he performs ground-breaking research in both animal and human cancer. Equally important, he is a personable, compassionate and caring individual. His entire team--including doctors
Tony Rusk
,
Alexandra Sahora
and Esther Chon; his assistant Cindy; and the veterinary technicians Stuart, Tracey and Amy--understands what a scary time this is for your and your pet. Managing cancer is complex, expensive and at times confusing (even for me with Westin). Dr. Khanna and his team will go out of their way to answer all your questions and concerns and are always available to the emergency doctors at Friendship if something happens after hours. They do their very best to make treating your pet's cancer as comfortable as possible for both you and your beloved pal.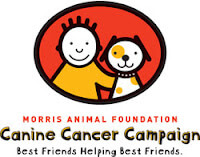 Though most cancers in companion animals are, unfortunately, not yet curable, many are now treatable thanks to devoted doctors like Chand Khanna and organizations like the
Morris Animal
Foundation
. We are making great advances in managing cancer in our beloved pets and one day we will find a cure. Westin has responded unbelievably well to her previous treatments. I know the next course of chemotherapy may be difficult for her but she is still a happy, active dog and I know she wants to keep trying. I treasure each day with her and consider myself blessed that she has Dr. Khanna and the Oncology Department at Friendship looking after her.