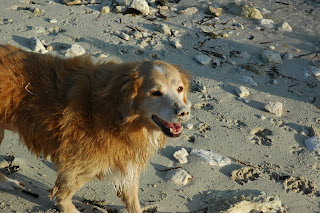 My beloved dog Westin died early this morning a few months shy of her thirteenth birthday from complications related to her chemotherapy treatment. She had battled lymphoma for eighteen months and melanoma for eleven months. She had been diagnosed this month with an aggressive type of cancer in her liver called hemangiosarcoma. She had done so well with the treatments for her first two cancers I think she just couldn't fight anymore.
Westin was truly my best friend and constant companion, with her death I feel as if a part of me is missing. I know we had a wonderful life together and that I was fortunate to be able to provide her with the best veterinary care available. I want to thank everyone at Friendship not just for the loving care they gave her during her last few days in the hospital but over the past three years as well. A special thanks to the oncology team who were always available for guidance and support. If anyone is not familiar with the
Rainbow Bridge
please take a moment to read it as I know I will see Westin again.

Things have been a little sad at Friendship Tails lately and I apologize for that. I will be taking a brief break this week but please check back next Tuesday for a great story about a tenacious cat named Spooky.