Friendship was mentioned in Thursday's
Washington Post
and that night on ABC 7 (
http://www.wjla.com/news/stories/0309/603179.html
)
in regards to Sam a 2 year-old German shepherd who was shot by police during a robbery investigation. He presented to the hospital late Tuesday night in extreme pain with a bullet lodged near his spine and almost completely paralyzed from the neck down. He was started on aggressive pain management and antibiotics until he was stable for more aggressive diagnostics.
Throughout the day on Wednesday Sam owners worked desperately to find the funds to pay for Sam's hospital expenses. The article in the Post reports that Sam needs an $1800 surgery to get better, this is not quite true. Sam in is critical condition, with many days in the hospital followed by weeks of physical therapy ahead of him, if he survives at all. His veterinary bills would be thousands of dollars and it is possible that he will never walk again.
During the day on Wednesday Sam showed some improvement by moving his hind legs, but he was unable to bear weight on any limb which made standing impossible. Despite use of the most aggressive pain medication we have in the hospital he continued to be in excruciating pain. At this point we recommended that Sam's owners consider humane euthanasia given his poor prognosis and the extensive cost for treatment. They refused and continued to search for funds.
On Thursday, after exhausting all their options Sam's owners could not pay for his hospital bills. At this point Friendship offered our Brudder Sullivan Fund to cover the cost of hospitalization and treatment pending a neurologic evaluation by a veterinary neurologist. Dr. Bush (my very favorite neurologist) of
Bush Veterinary Neurology Services
in Leesburg, Virginia agreed to examine him at no cost to the owner. Dr. Covert who has been caring for Sam since Wednesday morning took it upon herself to drive Sam over an hour away so he could see Dr. Bush. This is an example of another Friendship doctor going above and beyond the call of duty.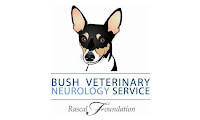 After performing a complete neurologic exam on Sam, Dr. Bush was hopeful and that a CT scan and MRI would give us a better idea of what type of damage the bullet had caused. Dr. Bush then offered to pay for these expensive diagnostic procedures with funds from his
BVNS Rascal Foundation
. The images below show that a bullet had shattered a rib head and a bullet fragment was lodged in Sam's spinal canal. These results may seem like bad news but there is hope that Sam may recover and regain use of all four limbs.
Thursday night Dr. Covert brought Sam back to Friendship for continuing care. We are treating him with pain medication and antibiotics which will treat both his wounds and the secondary pneumonia that has developed. Friendship will continue to cover Sam's medical expenses and we have been receiving donations from our wonderful and generous clients. He has a long road ahead of him but with aggressive management we are hoping he will pull through. Please check back in frequently for updates on Sam's condition.