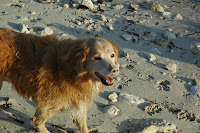 Lymphoma is the most common cancer that we diagnose in cats and dogs. Cancer is never good news, of course, but if there is a bright side, it's that Lymphoma is by far the most treatable. It does however behave very differently in cats and dogs.


In dogs we usually see an enlargement in one or more of the peripheral lymph nodes such as those located under the jaw or on the back of the hind legs. In many cases, the patient won't even feel sick at the time of diagnosis. In other cases, the patient will show general signs of weight loss, lethargy and anorexia.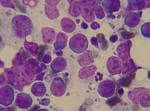 Diagnosis is typically relatively non-invasive and done by sticking a needle into a lymph node to obtain cells. (This is called a fine needle aspirate.) Lymphoma can also present in the gastrointestinal organs such as the liver, spleen, small intestines or lymph nodes, lymph nodes in the chest, or sites such as the skin, nervous system and eyes.
Cats, on the other hand, are afflicted most frequently with gastrointestinal lymphoma, although they can also get the same organ involvement listed above for dogs. They present with general maladies such as decreased appetite, weight loss, frequent vomiting or diarrhea.
With cats, I recommend bloodwork first in order to rule out any underlying issues with kidney disease or hyperthyroidism. If the bloodwork is unremarkable then lymphoma or inflammatory bowel disease are at the top of my list of suspects.
Cats are not as easy as dogs to diagnose. The next step is an ultrasound, done by our internist
Dr. McConnell
, to visualize the abdominal organs. We often see thickening of the small intestinal walls, enlarged lymph nodes in the abdomen, changes in the liver or spleen. If possible, Dr. McConnell will do an ultrasound-guided fine-needle aspirate of everything except the small intestine. If it looks like the small intestine is involved endoscopy is recommended to obtain pieces of the stomach and small intestine to differentiate between lymphoma and inflammatory bowel disease.
Once lymphoma is diagnosed in both dogs and cats, we refer people to an
oncologist
for further diagnostics and treatment. It is necessary to stage the disease in order to figure out how far it has progressed and which specific type of lymphoma it is. The most frequent sites of metastasis are the lungs and liver. Therefore x-rays of the chest are taken and an ultrasound (if one was not done already) is performed to look for evidence that the cancer has spread.
Once the oncologist has determined exactly what they are dealing with, it is time to discuss treatment options and prognosis. If this is something you ever have to go through with your own animal, an oncologist will explain what treatments are available and what you can expect.

The most important thing to keep in mind when treating cancer in animals is that our goal is not to cure. Instead, we want to prolong the animal's life while maintaining a good quality of life. People are blasted with chemotherapy drugs to try and kill all of the cancer. This is why people get so sick. With animals, we administer lower doses of drugs with the intent to kill as many of the cancer cells as possible without making the patient feel bad.
Having a pet diagnosed with any kind of cancer is scary and overwhelming, I hope this provides you with some helpful information.