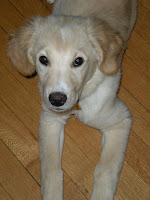 I heard that this week two of Poppy's litter mates have become sick after their vaccines, so I thought this would be a good time to broach the subject of vaccine reactions.
The good news is that vaccine reactions are very rare, it is safe to say less than one percent of vaccinated pets experience an adverse reaction. Not vaccinating for fear of an adverse effect is not the answer. As vaccination in the general population wanes, re-emergence of these diseases is certain and the diseases we do vaccinate against are very serious or even fatal. There has been a benefit of this focus on adverse effects; increased research into vaccine safely, efficacy and duration of immunity. Vaccinations protect our pets from many potentially fatal diseases, and their benefits far outweigh the small risk of a vaccine reaction.
After their vaccination, mAfter a vaccany pets will act tired and have a decreased appetite; some will even have muscle soreness or a mild fever. As long as this resolves within 24 hours treatment is not necessary.
When vaccine reactions do occur, they can be unpredictable and manifest in many different ways. Very infrequently we see a pet have an allergic reaction to the vaccine with clinical signs such as facial swelling, hives, excessive itchiness, weakness, difficulty breathing, pale gums, vomiting, diarrhea and extreme lethargy. If a dog or cat develops any of these symptoms they should be seen by a veterinarian immediately. In most cases the patient will respond quickly to treatment with an anti-inflammatory and an anti-histamine as well as supportive care with intravenous fluids. Once this happens the pet should always be given an injection of an anti-histamine like Benedryl, before vaccination and monitored very closely afterwards.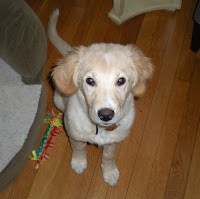 Poppy's littermates were not vaccinated or treated at Friendship, but from what I was told they developed extreme lethargy, decreased appetite, high fever and joint pain. The joint pain is a somewhat unusual presentation for a vaccine reaction but what I believe happened is that for some unknown reason the puppies' immune system created an inflammatory response to the vaccine which resulted in localization of immune complexes in the joints causing pain. They were treated with a non-steroidal anti-inflammatory such as Rimadyl, as well as Doxycycline, in case the illness was related to an infectious disease. While Doxycycline is an antibiotic, it also has anti-inflammatory properties which would help make the puppies feel better.
Thankfully, all of the puppies have made a full recovery and are lucky to have such attentive owners. The puppies' potential for vaccine reactions is something their owners will have to be aware of for the rest of the dogs' lives. In the future, before each vaccination, pre-treated with anti-histamine should prevent a reaction.
While all vaccine reactions are an unfortunate complication, it's crucial to bear in mind that the benefit of preventing potentially fatal diseases far outweighs the minimal risk of a reaction. The puppies must also stay on the schedule of vaccines every three to four weeks to help prevent diseases such as parvovirus. Poppy will be given her final set of vaccines next week and I will be watching her very closely for any signs of adverse reaction.