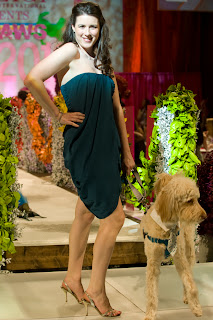 Fashion for Paws is rapidly approaching; the dogs take over the catwalk at the Nation Building Museum in a little over a week.
Frank and I are thrilled to have raised over $14,000 so far.
To raise as much money as possible to help the nearly 30,000 abused, abandoned and neglected animals that WHS cares for each year we have teamed up with Happy Paws to host a Spring Fair on Sunday, April 7
th
.
We invite everyone, dogs included, to join us for a day of family fun.
There will be games for the kids, a raffle with amazing prizes, a professional photographer taking dog portraits and Friendship veterinarians to make sure your dog is a healthy weight.
The WHS Adopt Force One van will be there with adorbale animals looking for forever homes.
The raffle prizes alone are worth the trip – 10 days of boarding or day care at Happy Paws, Friendship Hospital for Animals gift cards and 6 months of food from Hill's Science Diet!
In addition Rito Loco food truck will be serving up the best burritos in town for lunch.
All proceeds from the day will go to support Frank and me in Fashion for Paws.
I hope to see you there!
April 7th
11 am to 1 pm
Happy Paws
4904 Wisconsin Avenue NW