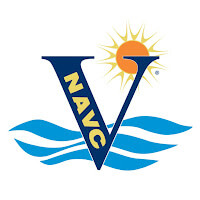 I just returned from the North American Veterinary Conference (NAVC) in Orlando where I had an amazing time
learning about the new and exciting developments in veterinary medicine. Since medicine is constantly evolving and recommendations are always changing, all veterinarians are required to participate in continuing education. What makes Friendship stand out among other clinics is that all of our doctors regularly attend national conferences. This is another way the doctors at Friendship make sure that your pet is provided with the very best veterinary care possible.
Essentially, attending a conference is kind of like going back to school but is even better because you get to focus on subjects applicable to what you do every day. I spent the week listening to specialists from around the country lecture on various topics. This helps us to make sure that the recommendations we give our clients are not just appropriate but the gold-standard of care determined by the latest research.
In addition to the lectures there is also a massive exhibit hall where vendors display all the new and exciting products available in veterinary medicine. After attending a particularly disturbing lecture about how difficult ticks are to control and that the incidence of tick borne diseases lick Lyme and Rocky Mountain Spotted Fever are on the rise, I made a point to visit the booths and learn more about the newer spot-on preventives that are available. I also made a mental note to be much more vigilant about applying these products to my dogs once a month every single month.
I also am very excited about the Adaptil Collar and immediately put one on Poppy as soon as I walked in the house. The idea is similar to a flea collar but instead of pesticide the collar releases a pheromone that has been shown to help calm dogs and reduce anxiety. At this point I am unable to say if it is helping her but it certainly can't hurt, I will report again in a few weeks with my finial decision. Another cool use of this pheromone is that it comes in a spray that you can apply to a bandanna for more focal control of anxiety. For example, if your dogs hates riding in the car or going to the vet you could put the bandanna on to help him feel better for the limited time he is nervous.
I could go on and on about the exciting tips I picked up but I think I will save them for future posts - stay tuned!