The holiday season is always exciting but the blizzard this past weekend made the city a snowy, winter wonderland. Throughout the entire storm Friendship was open for business as 20 inches of snow blanketed the city. We had a skeleton crew of dedicated doctors, technicians and front desk staff who braved the snowy streets to be there for DC pets needing medical attention.
Poppy and Sparkle had a great time racing through the snow. Lilly on the other hand did not enjoy it quite as much, and did everything she could to avoid any contact.
The Friendship holiday party is a highly anticipated event by all of our staff. This year was no exception and everyone had a lot of fun celebrating the season. The second annual Friendship Awards were handed out and I was honored to be given the Bright Ideas Award for this very blog. Staff members nominate colleagues for each category and then our management team selects the winners. It is a great way to acknowledge how hard our staff works every day.
The award winners are:
Rookie of the Year: Pamela Trujillo
Team Spirit: Amy Burgess
Outstanding Growth: Emmally Yarnell
Outstanding Growth: Dr. Nicola Moore
Client Service: Lizzie Wood
Client Service: JT Means
Dan Ferguson Memorial Patient Care: Juliana Dunbar
Dan Ferguson Memorial Patient Care: Shannon Huza
Admin/Inventory/Ops of the Year: Marcos Vasquez
Doctor of the Year: Dr. Amanda McMurphy
Client Care technician of the Year: Jen Lehmann
Veterinary Technician of the Year: Rebecca Monti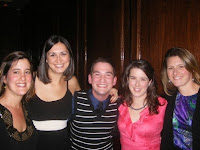 Internal medicine technician Mark with Drs. Choen, Begnoche, Hughes and McMurphy

I will be taking a brief break for the holidays and return on January 5th. If you are dying to read more from me I will be posting on the
DCLadies blog
January 31st. From all of us at Friendship we wish you a happy holiday and an exciting new year!