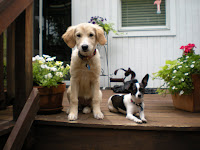 The past few months with Poppy have taught me so much about raising a puppy, I now feel able to advise my clients better than ever. As with all puppies, Poppy's education is a work in progress: teaching her to be a well behaved dog will continue long into her adulthood and requires much patience.
I wanted to sum up what I feel are the three most important take-home messages from my series on puppy tips with Poppy.
1. Bring your new puppy to the veterinarian right away
– All puppies should come with a health record of vaccines and de-worming medications administered by the breeder or shelter. On your first puppy visit be sure to bring this paperwork, so you and your veterinarian can discuss and plan out an appropriate vaccine schedule. In addition, a poo sample is helpful so your veterinarian can make sure your puppy didn't bring home any unwanted friends (internal parasites) with him. At this first visit you can get your puppy started on preventatives for heartworm, fleas and ticks.
2. Take your puppy to basic training class
– All veterinary behaviorists agree that early socialization is a crucial step in creating a happy and well-adjusted dog. Exposure to other puppies, new people and places can help prevent your puppy from being fearful and socially awkward. Puppies need to be taught how you want them to behave; a training class will give you proper guidance on how to achieve this. An added benefit: letting your youngster run around and play with other puppies is a great way to work off some of that crazy puppy energy!
3. Spay or neuter your puppy
– I cannot stress the importance of this enough. In my opinion, spaying or neutering is the single best thing you can do, not only for your own dog but for the millions of homeless animals living in shelters. Along with eliminating the chances for many types of cancer developing, spaying and neutering can prevent many behavior issues. I have said it before and I will say it again: female dogs in heat are messy and it is always embarrassing to have your male dog humping someone's leg.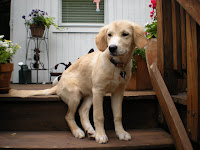 I hate to disappoint anyone who was looking forward to watching me and Poppy on Fox 5 tomorrow but they cancelled, apparently the switch from analog to digital television is more important than Poppy or my opinions on puppy care…clearly they have their priorities wrong.
I will continue to post frequent pictures of Poppy for those who want to follow how she is doing. Check back next Tuesday, when I'll be back with a story about a Doberman mix named Sam and how his life was saved by a surgical procedure called a gastropexy.