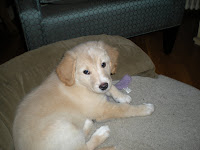 I was browsing through PetFinder.com last week and was amazed to find a litter of puppies that looked exactly like Westin did when she was a baby. They were being fostered by
Rescue Angels
out of northern Virginia. I am a big proponent of adopting an animal from a shelter or rescue group, so this was a perfect fit.
I went to meet the puppies and fell in love with one of the blond females of the litter. She is eight weeks old and a tiny, yellow fluffball. I know she will not replace Westin, but she can help fill the void I feel from Westin's loss. I haven't settled on a name yet, because I am waiting to get to know her better.
I thought this would be a good opportunity to discuss proper veterinary care for your new puppy. This week, I will bring my new puppy to the hospital and start the Puppy Plan we offer at Friendship. Included in this plan are all of her puppy wellness visits, deworming, fecal flotations, and core vaccines. In addition, she will get 10% off of her spay, a name tag (once I decide on her name!) and the first month of heartworm prevention free.
It is critical to get puppies started on a vaccination protocol to help protect them against potentially fatal diseases. At Friendship we consider core vaccines to be the combination distemper/parvo/hepatitis vaccine (DHP), the Bordetella vaccine and, of course, the rabies vaccine. While it is not considered a core vaccine, I also recommend that my clients vaccinate against Leptospirosis which is a bacteria transmitted by rodent urine.
Monitor your puppy carefully for 12 to 24 hours after vaccination, because there's a chance that a vaccine reaction may develop. Clinical signs to watch for are facial swelling, hives, extreme lethargy, profuse vomiting, or diarrhea. If you notice any of these signs you should seek veterinary care immediately. It is normal for your puppy to be sleepy after the vaccinations and a small bump may develop at the vaccine site. While the potential side effects of vaccinations may sound scary, bear in mind that these are rare, and that the benefit of protection to your puppy far outweighs any risk.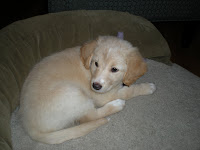 You must also be sure to test your puppy's poo for internal parasites. Most puppies will have roundworms at some point, since these are transmitted by their mom. Keep in mind that roundworms are transmissible to people, so be sure to wash your hands after playing with your puppy. Regardless of what the fecal test tells us, I will always give an oral de-worming medication to all puppies during their exams.
Last but not least comes the essential step of starting your puppy on heartworm prevention plus flea and tick prevention. These medications should be given once a month, all year long for the rest of your dog's life.
Heartworm disease
can be fatal, as I mentioned in an earlier post. The flea and tick prevention keeps these nasty bugs out of your house and helps prevent tick-born diseases such as
Lyme disease
.
Bringing a puppy into your home is a joyous event but one that comes with a lot of responsibility. At Friendship we work with you to get your puppy's new life started out on the right paw. I am thrilled with my new pal, she could not be any sweeter. Please check back in weekly for status updates and more key tips for having a happy and healthy puppy.